What is a Release Agent?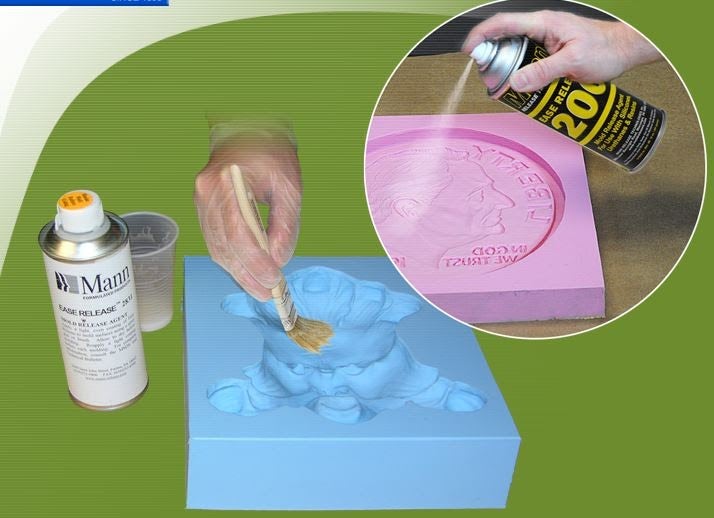 There are a variety of materials that require shaping with a mould, typically if multiple forms of the same shape are needed. The use of moulds allow for a simplified replication process that will help create these products at an accelerated rate of speed. Generally speaking, most release agents are created with a silicone base, although there are some current lubricants available in a silicone-free module.
What Does a Release Agent Do?
A release agent works much like a cooking spray is needed to prevent sticking in the kitchen. Spraying the pan while cooking helps release the food without sticking or needing to force the food out of the pan; a release agent is used throughout the moulding process—to assist with the prevention of sticking; creating a slip effect between the materials used and the mould. The agent is sprayed before the moulding process is started, and helps create a barrier between the actual mould and the material being set. This allows the final product to be removed gently from the mould, without having to force it out – and possibly damage the product as a result.
What types of Release mould Agents are Available?
There are many different types of release agents currently available on the market, so it's important to take careful consideration of which materials you're using before selecting an agent. Generally speaking, polymers and metals react differently with lubricants – although, generally speaking, the release agent should have no impact on the article itself. There are also specific lubricants available which can give the materials a matte or gloss finish – although these are less common.
It is important to note that most release agents are formulated to be hypoallergenic and odourless – to prevent chemical reactions with the materials being used. By creating the formula as hypoallergenic, it alleviates the risk of the chemical in the releasing agent mixing with the materials being used, which could potentially cause a shift in the final materials, create toxic fumes or otherwise cause problems in the replicating process.
It's important to read the manufacturer's label carefully before starting to ensure they do not contain any warnings or cautions on any mixing substance.
How Do I Use Release Agents?
Typically, a release agent is sold in an aerosol spray can, although other application methods are available. The application process itself can vary depending on the product, so it's best to follow the manufacturer's instructions. Depending on the material you're planning on using, the application process of release agents can vary greatly. Some materials require a thicker agent which needs to sit for extended periods of time, whereas other applications might require a faster application.
What Do I Use Release Agents For?
Release agents can be used for many different purposes; ranging from moulding to casting, curing and more. It's important to consider your entire process. Before choosing your release agent, it's important to consider whether you're using heat, the total time you need for setting the final product and any other project specific details.